The Canadian Ringette Championships are coming to New Brunswick in 2024!
---
---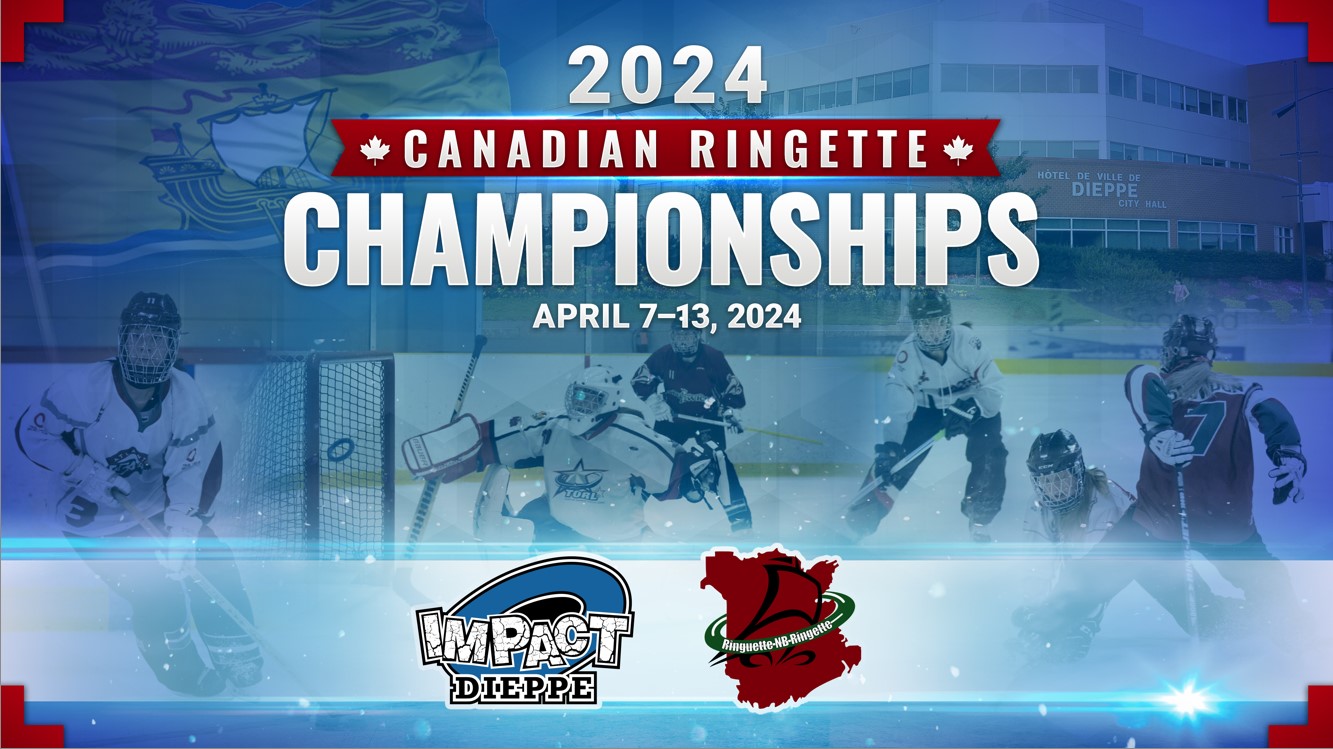 ---
Ringette New Brunswick in partnership with the Dieppe Ringette Association and the city of Dieppe has been successful in its bid to host the 2024 Canadian Ringette Championships!
The national event which features the best teams in each province will battle it out on the Ice from April 7th - April 13th, 2024. The week-long event will feature 45 teams across three division and age groups: U16, U19, and the National Ringette League (NRL). New Brunswick will have a team competing in each category. With 63% of the Ringette community within 30 minute drive of the host city Dieppe, it gives the province an opportunity to showcase this great sport to a large demographic.
Deveau, the president of the Dieppe Ringette Association said "We are beyond excited in making this happen in our community. To host a Canadian Championship is a big deal. It's nice to get the support of our community and local governments. We will work closely with these partners to make this event is one to remember."
Gautreau, the President of the board for Ringette New Brunswick says: "I'm thrilled and excited to be bringing back this National Championship to New Brunswick. It's been a long 11 years since we last hosted in Fredericton in 2013. I'm humbled by the amazing support from our communities, our ringette associations, and our provincial and federal governments. The 2024 Canadian Ringette Championships will be a truly amazing experience for all athletes, coaches, officials, volunteers, and fans from across Canada."
Events of this magnitude are not possible without the support from local governments. RNB and the Dieppe Ringette Association are grateful to have such a great relationship with the city of Dieppe. "The City of Dieppe is very proud to host the 2024 Canadian Ringette Championships at the UNIplex, a modern facility built by and for the community," said Mayor Yvon Lapierre. "This is good news for the entire region. Over the years, we have hosted many large-scale sporting and cultural events, a testament to the vitality of our growing municipality. This major championship will have significant economic benefits for the City of Dieppe," he added.
Pizzera, the current Executive Director of RNB says "Ringette New Brunswick is proud and honoured to be hosting the Canadian Ringette Championships. These championships will have a lasting impact on the ringette community as it will give us the opportunity to leave a legacy that will grow the sport for years to come. Our HP program has taken tremendous strides to be competitive nationally, which is showcased by our silver medal in the U16 age category at this year's national event. We are so excited to show our younger generation what is possible in this sport, and how to compete at the highest level."
If you are interested in volunteering or a business wanting to become a part of this great event, please email Vicky and Matthias at 2024crc@gmail.com